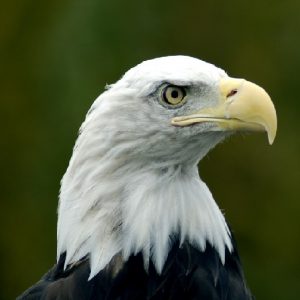 Winter is one of the best seasons for viewing bald eagles in North America. Many of the best locations are found along both coasts, major rivers, and migratory bird flyways. The following list includes a few areas where bald eagles may be seen.
Northeast:
Great Bay National Wildlife Refuge (New Hampshire)
At Great Bay National Wildlife Refuge, a two-mile trail leads to Great Bay where bald eagles, wild turkey, white-tailed deer, red fox, and other wildlife are sometimes present.
New York
Wintering eagles arrive in December with concentrations peaking in January and February. Bald eagles are often found near power plant discharges, tributary junctions, sharp bends, and other areas where open water occurs.
Areas where eagles may be viewed along the Hudson River include Margaret Lewis Norrie Point State Park, Constitution Island from North Dock, West Point Route 6/202 overlook above Iona Island State Park, Riverfront Park, Charles Point, Verplanck waterfront, and George's Island Park.
Bald eagles are often spotted Upper Delaware River during winter. Potential eagle watching areas inlcude Mongaup Valley Wildlife Management Area, Mongaup Reservoir, Rio Reservoir.
Along the St. Lawrence River, eagles are often found at, Wellesley Island State Park, Brockville Narrows, and other locations.
Mid Atlantic:
Blackwater National Wildlife Refuge (Eastern Shore of Maryland)
Blackwater National Wildlife Refuge has one of the highest concentrations of bald eagles on the East Coast. More than 200 bald eagles winter on the refuge. Held in March, the Blackwater National Wildlife Refuge Eagle Festival features kids' activities, guest speakers, exhibits, and bus tours to see active eagle nests.
Elizabeth Hartwell Mason Neck National Wildlife Refuge (Washington, DC)
The first refuge established for the protection of bald eagles, Mason Neck National Wildlife Refuge is a leading place to try to spot them. The refuge lies along a section of the Potomac River that is a breeding and resting area for bald eagles. The Great Marsh Trail offers a good overlook from November through March, when eagles are building nests and laying eggs.
Midwest:
Yellowstone National Park is one the most famous areas in the USA for bald eagle watching. Eagles can be seen all year in Hayden Valley and along the Madison River. During the winter, bald eagles are usually present along the Gardiner River.
Mississippi River:
Upper Mississippi River National Wildlife and Fish Refuge (near Clinton, Iowa)
At Upper Mississippi River National Wildlife and Fish Refuge, bald eagles sometimes number in the hundreds as they hunt the open water below the river's locks and dams. The refuge surrounds the lock and provides excellent viewing opportunities. Bald eagle numbers peak from January through March. The refuge holds the Clinton Bald Eagle Watch in January.
Pacific Coast:
Winter is best time of the year to see bald eagles in much of the Pacific Northwest. By December or January, migrating eagles arrive at their wintering grounds.
Nisqually National Wildlife Refuge (Olympia, Washington)
Bald eagles feed on waterfowl and fish where the Nisqually River meets Puget Sound. Washington is one of the largest eagle nesting sites in the country.
Ridgefield National Wildlife Refuge (Portland, Oregon)
In winter, resident and migrating bald eagles feed on waterfowl and fish along the Columbia River. Eagle populations can vary, depending on the Columbia salmon runs.
Klamath Basin:
One of the largest concentrations of wintering bald eagles in North America is found in the Klamath Basin (California-Oregon). Outside of the Klamath Basin, lone bald eagles or small groups of birds may be seen near lakes, reservoirs, rivers, and streams.
Popular areas for eagle viewing include  Lower Klamath and Tule Lake refuges in winter.
Bald eagles are highlighted at the Klamath Basin Refuges Winter Wings Festival, held  in February.
California:
During the winter season, bald eagles can usually be found in Whiskeytown-Shasta-Trinity National Recreation Area (Shasta and Trinity lakes).
source: U.S. Fish and Wildlife Service
Related Information