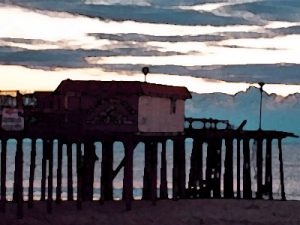 Summer field trips along the Atlantic coast provide a range of nature-related activities that inspire painters and other artists. Among the most common field trips are expeditions to paint, photograph seascapes, collect shells, explore tide pools, or hike along nature trails.
Many of these activities offer artists inspiration and a foundation upon which to create works of art en plein air. En plein air is a French expression which means "in the open air", and is typically used to describe the act of painting outdoors.
The Atlantic coast is an excellent place to paint sunrises and sunsets, seascapes, wave actions, marine mammals, people, boats, and other scenes.
Bird watchers will find plenty of subjects along Atlantic shorelines. Most areas are home to gulls, terns, oyster catchers, herons, egrets, pelicans, ibises, plovers, sandpipers, and other shorebirds.
Exploring tide pools is an excellent way to find subjects and materials for art projects such as cockles, moon snails, whelks, conchs, scallops, angel wings, and other attractive treasures. Field trips to explore tidal areas are a wonderful activity for nature enthusiasts of all ages to learn about the creatures that live there.
Artists also find kites of every description along the coast. To fly a kite successfully, enthusiasts need wind and open areas, which are usually plentiful along the coast.
The Atlantic coast has thousands of hiking trails which offer a wide range of scenery. Coastal destinations such as National seashores and public beaches usually provide trails with a range of landscapes and wildlife.